Print
News
| | |
| --- | --- |
| We wish you a wonderful Easter! | 15.04.2019 |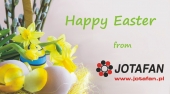 We would like to wish you healthy, happy
and cheerful Easter, full of faith, hope and love.
For the coming time was full of wonderful
moments with family encounters and rest.
Happy Easter wishes team of the JOTAFAN company!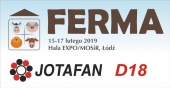 We would like to invite you to visit the XXII International Fair PIGS and POULTRY FARM in EXPO Hall in Łódź (POLAND) from 15th to 17th February 2019. We will be pleased if you visit our stand D18.
We hope that it will be good opportunity to present you the offer of our products.
For more details go to http://targiferma.com.pl/en/
| | |
| --- | --- |
| Christmas greetings | 20.12.2018 |
We wish you a Merry Christmas
wonderful moments with your family
and fulfilment of your dreams
in the New Year 2019
Team of the JOTAFAN company
[ last| 2 | 3 | 4 | 5 | 6 | 7 | 8 | 9 | 10 | next ] page: 28