Print
News
| | |
| --- | --- |
| NOVELTY – Water pressure alarming unit ETC-3-AL | 12.06.2017 |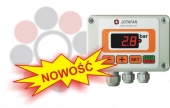 We are pleased to present you a new water pressure alarming unit ETC-3-AL together with an electronic pressure sensor used to measure water pressure during watering and alarming when pressure is too high or too low.
The measurement of water pressure is measured in the range of 0 to 10 bars, resolution of measurement and settings of alarm thresholds: 0,1 bar. The unit is equipped with an easy to read three-digit display which shows pressure and settings.
An alarming relay output provides connection of the unit with alarming devices, e.g. an alarming unit CA-GSM-1 or an acousto-optic signalling unit AS-510. The pressure sensor is mounted by screwing (G ¼" thread) and it can replace mechanical manometers.
We invite you to get familiar with technical information about the alarming unit ETC-3-AL in
| | |
| --- | --- |
| The lecture for students of zootechnics in the University of Warmia and Mazury in Olsztyn | 23.05.2017 |
In 2017 our company started to co-operate with the University of Warmia and Mazury in Olsztyn. The result of this cooperation was the first meeting with students of third year of zootechnics on 8 May 2017. During this meeting there were presented the microclimate controllers as well as the system of automatic poultry weighing during the breeding process. The lecture also concerned the way how to keep proper microclimate parameters in livestock buildings.
http://www.uwm.edu.pl/wbz/praktyka-edukacja-spotkanie-przedstawiciela-firmy-jotafan-ze-studentami-kierunku-zootechnika
| | |
| --- | --- |
| NOVELTY – Base for the WGJ-I pan | 15.05.2017 |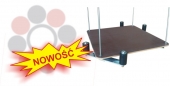 To guarantee the quality of service and to enhance customer satisfaction we developed a base for the WGJ-I pan to reduce the sway of the pan platform which has a positive impact on birds behaviour and the process of weighing. The construction is made of connected with screws steel flat bars with mounted rubber bumpers. The base should be put directly on the bedding under the pan platform. It is easy to remove it for cleaning the turkey house.
[ last| 11 | 12 | 13 | 14 | 15 | 16 | 17 | 18 | 19 | next ] page: 28