Print
The WGJ-8-LCD automatic poultry weighing system during the breeding process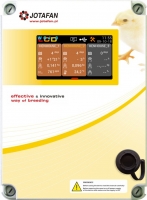 The WGJ-8-LCD automatic poultry weighing system during the breeding process
WGJ-8-LCD controller
The automatic poultry weighing system is designed for continuous control of birds weight growth. The JOTAFAN WGJ-8 automatic poultry weighing system consists of scales pans in a poultry house that are connected to the controller or (optionally) to a PC computer.
Each of connected to the WGJ-8-LCD controller scales pans (WGJ-W or WGJ-I) controls independently and continuously the value and change of weight on the weighing platform and records a probable bird weight. Thanks to this solution the system can simultanously and continuously record weighing acts on all scales pans with few seconds intervals between bird's getting in and out of scales pan. Each bird is weighed seperately despite the fact that there are other birds on the platform as well as droppings and bedding.
The WGJ-8-LCD controller takes weighing acts from scales pans and records each of them in its memory together with date and time. In this way, it is possible to collect data from 1000 days of the breeding process for each of scales pans conected to the controller on the assumption of about 9000 weighing acts per day on each of them. There can be conected to the controller up to 16 scales pans that can be grouped in 'flocks' - up to 8 flocks (inventory buildings).
Additionally, it is possible to connect to each of the flock the sensor of microclimate parameters, e.g. JOTAFAN RHT-CO2-10k that measures temperature, humidity and carbon dioxide concentration. There can be measured up to 6 different microclimate parameters including - except above mentioned - ammonia concentration, hydrogen sulphide concentration and one defined by the user. Data from sensors are also recorded. It is possible to programme alarm thresholds, after exceeding them the WGJ-8-LCD controller reports an alarm (displaying a message or change of alarm output status).
The view of display screens of the WGJ-8-LCD controller: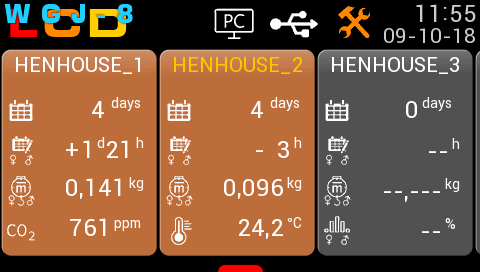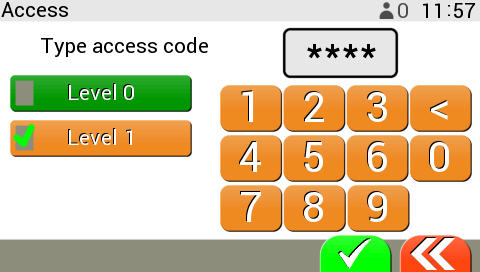 The 'Basic screen' enables fast preview of
weighingparameters for each of flocks and
the operation status of the system. By pressing
the flock's field it is possible to move to its
detailed view.


The 'Access' screen is used to unlock
the subsequent access levels to flocks' settings
and controller's settings.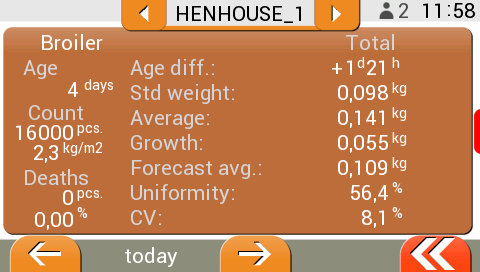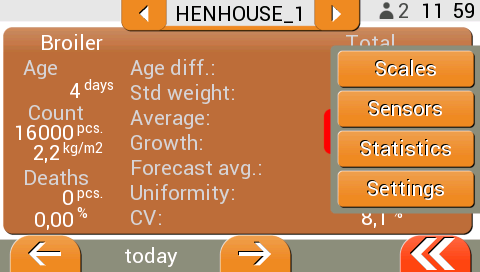 The 'flock view' screen shows current
parameters and weighing results.


A dropside menu enables to display indications
of scales pans, sensors as well as charts and settings for a particular flock.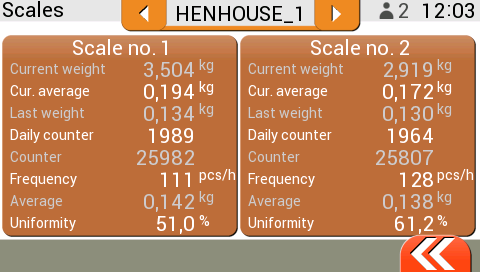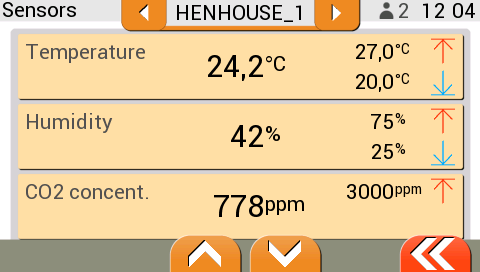 The 'Scales' screen shows current indications
from weighing acts on particular scales pans
assigned to the flock.


The 'Sensors' screen is used to preview
indications from the sensor assigned to the flock
(one or multi-parameter sensor) as well as
to the settings of alarm thresholds for particular
parameters (if a sensor s in the 'alarming' mode).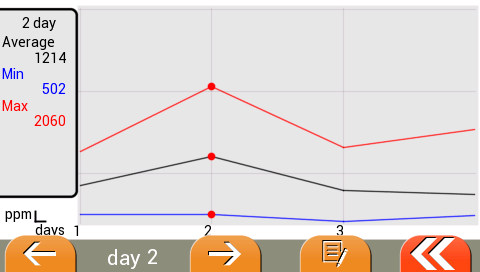 The 'Statistics' screen is used to graphical
illustration of weighing data by means of charts;
chart of average weight (black colour)
in comparison with the standard one (blue colour).


It is possible to place the cursor in the chart and
read the exact values in a given day. The chart
shows daily values of carbon dioxide concentration:
average (red colour), maximum (red) and minimum
one (blue).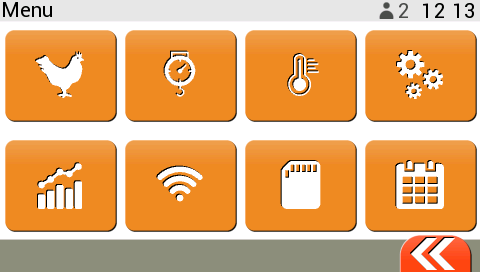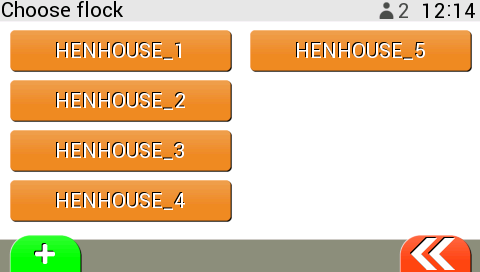 From the basic screen after unlocking the access
level 'Level1' it is possible to move to the settings
menu. Particular groups of settings are presented
in the form of 'tiles'.

The 'Choose flock' screen shows current, defined
flocks and it enables to edit their settings .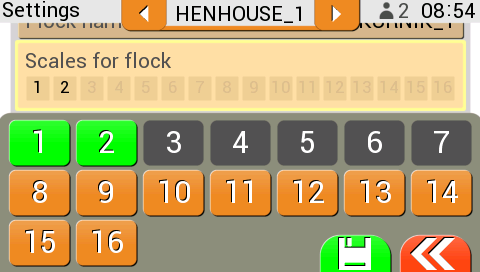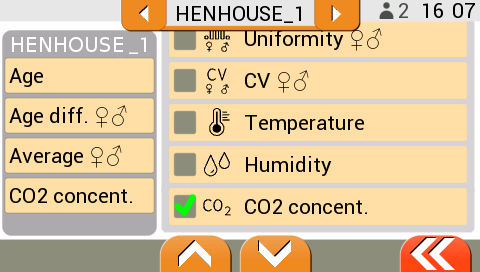 It is possible to assign flocks to scales pans and
sensors in the intuitive and clear way: devices
already assigned to the flock are marked green,
unavailable devices (assigned to other flocks) are
marked dark grey and available devices are
marked orange.


The basic screen of the WGJ-8-LCD controller can
be freelyconfigured with selected parameters.

The controller's memory contains standard curves for basic flocks (broiler and parent flocks): ROSS-308, COBB-500, HUBBARD F-15 and FLEX, as well as for turkeys: BIG-6 and BIG-9.
This device is equipped with interfaces: USB and RS-485 that enable to connect a PC computer in order to control the scales system remotely, reading of collected data and analyse them in greater detail.
The WGJ-8 controller can be also equipped with an Ethernet module or WiFi giving possibility to its connection (by means of a wired or wireless router) to the Internet network or wireless data transmission between poultry houses and an office of a social room. Thanks to this solution it is possible to connect quickly and easily all controllers on the farm in the network and control them remotely. Our offer includes a few types of antennas for WiFi installation. We also offer configuration and commissioning services.


The scheme: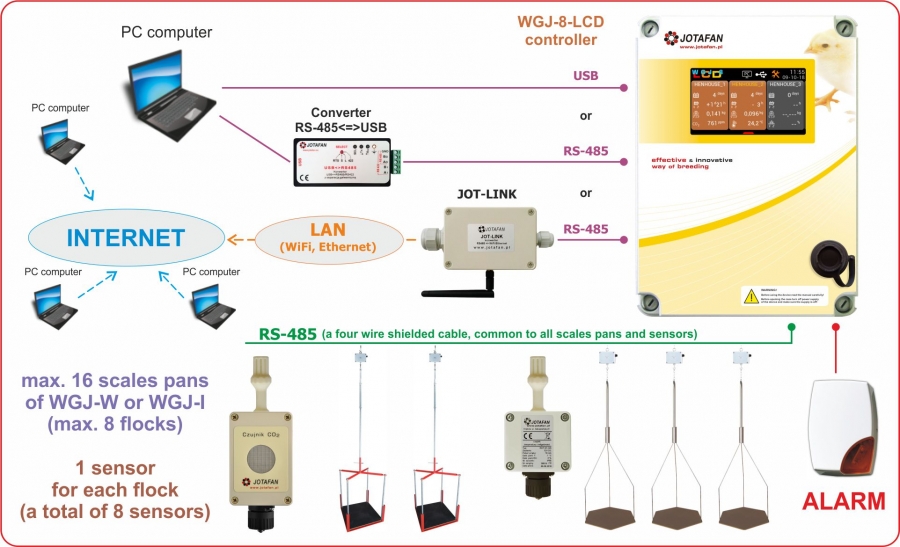 Technical Data:
| | |
| --- | --- |
| Supply voltage | 230 V, 50 Hz |
| Fire protection class | I |
| Power consumption by device with connected weighing scales | max. 24,3 VA |
| The fuse in the power circuit of device | ceramic, 125mA, 250 V |
| Relay alarm output | Umax: 24 V DC, Imax: 200 mA, Rint: 8,2 Ω |
| Recording resolution | 1g |
| Type of a memory card | SD |
| Type of commnication with a PC computer | RS-485, USB and WiFi/Ethernet by means of JOT-LINK converter |
| Temperature of operation | 0°C ÷ 40°C |
| Ambient relative humidity | 10 ÷ 90 % (non-condensing) |
| Ingress protection class | IP 55 |
| Housing dimensions (height x width x thickness) | 340 x 235 x 130 mm |
| Device weight | 2,05 kg |