Print
RHT-PSR sensor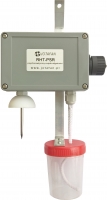 RHT-PSR sensor
The RHT-PSR sensor is a device used to measure temperature and relative humidity by means of a psychometric method (by means of wet and dry bulb thermometers) and it is designed for measurements within high levels of relative humidity (from 60% to 100%). Because of high resolution of measurements – 0,01°C for temperature and 0,1% for humidity- the sensor reacts perfectly to their slight changes.
The sensor is designed for communication within the RS-485 network. A built-in protocol enables to connect up to 32 sensors to one master device (by means of one cable). The choice of sensor's address is performed by means of micro-switches situated inside its housing.
The sensor is supplied with 8..18V DC voltage. The power supply is required to be supplied by means of the same cable as signals of the RS-485 bus (a four-wire shielded cable).
Technical Data:
| | |
| --- | --- |
| Supply voltage (measured at sensor's terminals) | 12 V DC ± 30 % |
| Power consumption | max. 16 mA |
| Range of operating temperatures | 0 ÷ 65 °C |
| Range of relative humidity measurement | 40 ÷ 100 % |
| Accuracy of temperature measurement | ± 0.5 °C (in the range of 5 ÷ 40 °C) |
| Accuracy of relative humidity measurement | ± 2 % (in the range of 50 ÷ 98 %) |
| Ingress protection class (except the enclosure of a converter) | IP55 |
| Total housing dimensions (height x width x thickness) | 281 x 160 x 60 mm |
| Cable for communication network | 4 x min. 0.34mm2 shielded |