Print
RHT-01-GN sensor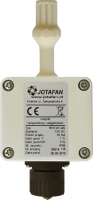 RHT-01-GN sensor
The RHT-01-GN sensor is a device used to measure relative humidity. It is equipped with a modern, pre-calibrated digital sensor of humidity and a microcontroller to control sensor's operation, perform calculations and communicate with external devices. The sensor has a RS-485 interface and it is used to interoperate with the JOTAFAN regulators (with RS-485), however, it is also possible to create the system of measurement with any other master device (e.g. a PC computer), with a protocol that enables connection of up to 32 sensors.
The sensor is equipped with a hermetic plug that makes its disassembly easier and faster e.g. during building cleaning.
A hermetic plug for mounting on the connecting cable is included in the set. The sensor can be used to measure low or medium humidity (0..90%RH) in different buildings, especially in pig houses, poultry houses and barns.
Technical Data:
| | |
| --- | --- |
| Supply voltage (measured at sensor's terminals) | 12 V DC ±30% |
| Power consumption | max. 16mA |
| Range of operating temperatures | -25°C ÷ +65°C |
| Accuracy of temperature measurement | ± 1.0 °C (in the range of 5 ÷ 45 °C) |
| Accuracy of relative humidity measurement | 0÷100% |
| Accuracy of relative humidity measurement | ± 3 % (in the range of 20 ÷ 80 %) ± 5 % (in the range of <5% and >95 %) |
| Update interval of indications | 4 seconds |
| Ingress protection class (except the enclosure of a converter) | IP 55 |
| Housing dimensions (length x width x height together with a socket and cover) | 112 x 65 x 45 mm |
| Height of transducer's housing | about 20 mm |
| Cable for communication network | 4 x min. 0.34mm2 shielded |