Print
RH-010-GN sensor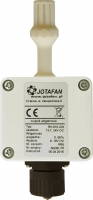 RH-010-GN sensor
The RH-010-GN sensor is a device used to measure relative humidity. It is equipped with a modern, pre-calibrated digital sensor of humidity and a microcontroller to control sensor's operation, perform calculations and communicate with external devices.
The RH-010-GN humidity sensor supplied with 14V to 24V DC voltage generates a voltage signal 0..10V or 0..5V proportional to relative humidity (respectively 0..100%RH). Because of its construction and measuring properties the sensor can be used to measure low or medium humidity (0 .. 90%).
A hermetic plug for mounting on the connecting cable is included in the set. The sensor can interoperate with microclimate controllers in pig houses, poultry houses and barns that have the function of humidity control and signal input 0..10V (0..5). It is also possible to use the sensor in the independent system of humidity measurement, e.g. with usage of a voltmeter or a DC power supply (e.g. P.S. Module).
Technical Data:
| | |
| --- | --- |
| Supply voltage (measured at sensor's terminals) | 13,7 ÷ 24 V DC |
| Power consumption (supplied with 15V and without output load 0..10V) | max. 20 mA |
| Range of operating temperatures | -25 ÷ +65 °C |
| Range of relative humidity measurement | 0 ÷ 100 % |
| Accuracy of relative humidity measurement | ± 3 % (in the range of 20 ÷ 80 %) ± 5 % (in the range of <5% and >95 %) |
| Range of output voltage | 0..10V (micro-switch no.1 in OFF position), coefficient: 1V/10% RH |
| | 0..5V (micro-switch no.1 in ON position), coefficient: 0,5V/10%RH |
| Minimum resistance of output load | 10kΩ |
| Update interval of indications | 2 seconds |
| Ingress protection class (except the enclosure of a converter) | IP 55 |
| Housing dimensions (length x width x height together with a socket and cover) | 58 x 68 x 35 mm |
| Height of transducer's housing | ok. 20 mm |