Print
Module INLET–010–LIN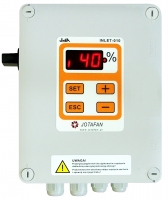 Module INLET–010–LIN
Module INLET–010–LIN is an electronic controller used to control the operation of a linear servomotor as for opening and closing the hopper-type windows supplied with 12V or 24V DC.The level of window opening can be controlled by analogue 0..10V voltage or by the RS-485 interface for the cooperation with i.a. controllers of the JOTAFAN system. This device contains a manual switch that is placed outside, on the side of the housing. It is used to choose an operational mode of a servomotor: automatic, manual opening, manual closing, turning off the servo-motor's power supply. Additionally, in the circuit of relay contacts there was installed a so called 'quenching diode' and RC elements for electromagnetic disturbances suppression.
The electronic system of the controller can be supplied with 12..24V DC .
Characteristics:
The level of window opening can be controlled in two ways:
-by analogue voltage from 0V to 10V; window opening is proportional to voltage on the input terminals,
-by an RS-485 interface (for interoperation with i.a. controllers of the JOTAFAN system.)
Present level of window opening expressed as a percentage (0%-closure, 100%-total opening) can be set in two different ways:
-position is read by means of a servo-motor's potentiometer,
-the position is established on the basis of time of movement from a limit switch location of windows closure (0%) to a limit switch location of full opening of windows (100%) and in the opposite direction because time of movement form 0% to 100% (window opening) can be different than time of movement from 100% to 0% (window closure).
an input of emergency inlets opening- breaking the circuit of an input causes inlets opening for a preset value (turning off with cooperation of a servo-motor's potentiometer),
adjustment of a digital filter operation with input voltage 0..10V (IN0 and IN10 terminals) by means of a Cf jumper,
choice of 0..10V input operational mode (normal, inverted),
overcurrent protection of an output.
Functions:
adjustment of the value of preset voltage for which the controller will set total window opening or closure,
saving the position of a servo-motor's potentiometer for window closure and total opening (control calibration),
function of emergency inlets opening after approx.3 min of RS-485 transmission break,
the possibility of hysteresis adjustment (as a percentage).
automatic procedure of measurement of movement time with the cooperation of limit switches of window position. This procedure is initiated manually by the user.
Technical Data:
| | |
| --- | --- |
| Supply voltage | 12..24V DC |
| Class of anti-electric shock protection | II |
| Kind of a control output | Relay contacts |
| Maximum load current of an output | 8A DC |
| The fuse | Ceramic 1,6A, 250 V (IL≥1500A) |
| Temperature in immediate vicinity of the module | 0÷40 °C |
| Ambient relative humidity | 10÷90 % (non-condensing) |
| Type of control | Two-position (ON/OFF) |
| Range of input control voltage | 0÷10 V |
| Power consumption of a controller (without connected receivers) | max. 4.0 VA |
| Type of an input of serial communication | RS-485 |
| Ingress protection class | IP 55 |
| Housing dimensions (height x width x thickness together with conduits and a switch) | 220 x 183 x 93 mm |
| Device weight | 0,7 kg |