Print
Module 010-4S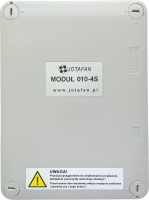 Module 010-4S
Module 010-4S is used for the VIRGO controller with an RS 485 bus as a module of extension by four independent analogue 0.10V outputs.
Thanks to this solution it is possible to connect to JOTAFAN controllers other devices and peripheral modules (such as controllers of fluent speed, modules of hopper-type window servomotors, ridges and inverters) controlled by analogue voltage.
Depending on micro-switches adjustment the module generates an analogue signal proportional to the control of Modules 6A or Modules Inlet-010. The VIRGO controller has the possibility of assigning individual module channels to the selected section of the controller (S1, S5..S16). Control values received from the controller are saved in the module's memory and in case of lack of communication with the controller they are copied on the outputs.
There is a possibility of inversion mode control (0%=10, 100%=0V) of each of analogue outputs.
The module 010-4S is supplied directly from a communication bus and it does not require additional power supply.
Technical Data:
| | |
| --- | --- |
| Supply voltage | 12..14 V DC |
| Type of communication | RS-485 |
| Number of independent channels | 4 |
| Output voltage of each channel | 0 ÷ 10 V |
| Maximum load current of each channel | 10 mA |
| Temperature in immediate vicinity of the controller | 0 ÷ 40 °C |
| Ambient relative humidity | 10 ÷ 90 % (non-condensing) |
| Ingress protection class | IP55 |
| Dimensions (height x width x thickness) | 175 x 130 x 81 mm |
| Module weight | 0,33 kg |