Print
Converter JOT-LINK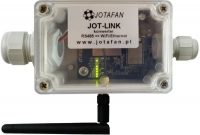 Converter JOT-LINK RS-485WiFi/Ethernet.
The JOT-LINK converter enables communication with devices equipped with an RS-485 interface by means of WiFi or Ethernet and provides galvanic separation of circuits. Thanks to flexible configuration by means of the converter it is possible to establish a direct connection with a PC computer or by means of two converters connect two RS485 buses via the TCP/IP network (e.g. the Internet).
The converter can work in one of three modes:
Ethernet (cable connection to the RJ-45 socket),
Client of a WiFi network,
a WiFi access point (max 5 clients).
Together with the converter there is also delivered a configuration programme by means of which it is easy to set operation parameters of the converter. You can learn more about this programme at SOFTWARE/ Computer programme JOT-LINK Config.
Characteristics:
whatever operation mode is chosen, the converter can act as the TCP client- initiating the connection or the TCP server- waiting for it,
a built-in transmission control that enables optimum adjustment of converter parameters to the known protocols of the RS485 transmission.
Technical Data:
| | |
| --- | --- |
| Power supply | 5..24 V DC |
| Power consumption | 0,8W |
| Type of a serial bus | RS-485 |
| Transmission speed | 9600, 19200, 38400, 57600, 115200, 230400* kb/s |
| Switch of transmission direction | automatic (delay max: 0,1ms for speed 115200 and 230400, 1ms for the others) |
| WiFi standard | 2,4 GHz IEEE 802.11b/g/n (chanels 1..11) |
| WiFi encryption | WPA2, WPA, WEP |
| Power of a WiFi transmitter (it does not include the antenna's gain) | 16/14/14 (b/g/n) dBm |
| Sensitivity of a WiFi receiver | -97/-92/-91 (b/g/n)**dBm |
| Temperature in the immediate vicinity | -25°C ÷ 50°C |
| Ambient relative humidity | 10 ÷ 80 % (non-condensing) |
| * | in the Ethernet mode with speed of 230400 kb/s there is a possibility of packet loss up to 1% |
| ** | sensitivity for modulation: b – 1Mb/s, g – 6Mb/s, n – 6,5Mb/s – 6,5Mb/s |