FERMA-MOBILE

Microclimate controllers

Poultry weighing scales

Silo scales

Feed and water dispensing

Lighting

Alarms

Extension modules

Sensors

Accessories

Software

Warranty terms

Download

Print
AQUADOZ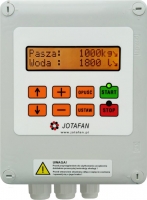 AQUADOZ
The AQUADOZ controller is used to control the process of dispensing feed and water. It controls the amount of dispensed feed e.g. on the basis of impulses from the batch weigher and it can turn off the feeding system after distribution of defined amount of feed. Water dispensing can be controlled regardless or proportionally to the amount of dispensed feed and it is based on impulses from the water meter. Moreover, the controller allows to programme 9 independent cycles of feed and water dispensing within 24hs and it also gives possibility to control outputs manually. The User can also turn off the control of feed dispensing only or water dispensing but not both at the same time.
The controller is equipped with a relay alarm output that informs about any irregularities in the system operation such as e.g. uncontrolled water leakage, etc. An alarm will also be activated if the amount of feed or water dispensed is different than the preset amount.
This device enables to programme feed and water distribution 'for tomorrow'. It helps to feed and water early in the morning.
The controller saves in its memory the amounts of feed and water dispensed in the following days together with flock age. Thanks to this solution it is possible to read the history of feeding up to 1000 days back.
AQUADOZ can interoperate with a computer programme that provides i.a. display of a current operation status, change of settings as well as data reading, also via the Internet (option).
Characteristics:
two built-in outputs of ON/OFF type used to control two factors (water, feed) with the possibility of manual control,
a relay alarm output (alarms activated if total or temporary consumption is too small or too big), automatic control turn off if consumption is too big; additionally alarms in case of incorrect work of the source of impulses,
an impulse counting input for cooperation with different sources of impulses (electronic water meters, inductive sensors, limit switches, etc.),
recording the daily consumption, the controller can save up to 1000 days of breeding together with date (a built-in battery powered clock that can also work during the failure of controller's power supply),
large, easy to read display and ergonomically-designed keypad that makes the process of control and data reading easy,
function of percentage comparison of current consumption with respect to the previous day.
Technical Data:
| | |
| --- | --- |
| Supply voltage | 230 V, 50 Hz |
| Class of anti-electric shock protection | I |
| Number of control outputs | 2 |
| Kind of a control output of Section 1 | Electronic switch ~230 V, 50 Hz |
| Type of control of Section 1 | Two-position (ON/OFF) |
| Load current of an electronic switch of Section 1 | Imax: 0,5 A (230 V, 50 Hz), Imin: 150 mA (about 35W) |
| Type of control of Section 2 | Two-position (ON/OFF)(NO,C) |
| Load current of relay contacts of Section 2 | Imax: 3 A ( 230 V, 50 Hz), Imin: 10 mA |
| Number of counting inputs | 2 |
| Kind of counting inputs | voltage, (12 V DC, 10 kΩ), controlled with connection up to 0 V |
| The fuse in the power circuit | NOT INCLUDED- an external circuit breaker of 'S' C-2 type is required |
| The fuse in output circuit of Section 1 | Ceramic 0,5A, 250V (IL≥1500 A) |
| The fuse in output circuit of Section 2 | Ceramic 3,15A, 250V (IL≥1500 A) |
| Relay alarm output | Umax: 24 V DC, Imax: 200 mA, Rin: 8,2 Ω |
| Temperature in immediate vicinity of the controller | 0 ÷ 40 °C |
| Ambient relative humidity | 10 ÷ 90 % (non-condensing) |
| Ingress protection class | IP55 |
| Housing dimensions (height x widtht x thickness together with conduits) | 220 x 160 x 93 mm |
| Device weight | 1,05 kg |